Have you adopted a pet from ARC and would love to tell the world your happy ending? We'd love to help! Please send your story as well as a photo of your furry friend to ARC and we would be more than happy to post it here.
 
Lil' Bear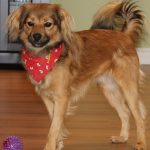 December 23rd is well known back home in Newfoundland as Tibb's Eve, a kick off to the Christmas holidays for drinking and merriment with friends and family.  This is how we used to know it until December 23rd, 2015. It is since known to our family as the day we brought home our precious Bear (we dropped the Lil' of his name) from Animal Rescue Coalition.
We were excited to get this sweet little boy but cautious for a couple of reasons. Bear was nervous of men at first and our Papillion, MitZu,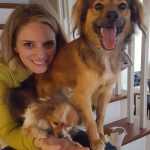 was a senior and used to being the only dog. Bear instantly bonded with my husband becoming his boy and with some support has overcome anxiety with men.  To our surprise MitZu and Bear got along well and quickly, cuddling on the sofa together with their family and sharing a water dish!
Bear is a quick learner and knows many tricks. He loves to play and has his own play area where he has play dates with other dogs.  He enjoys going to doggy day care and small dog socials to play and has lots of dog friends. Like the rest of his family, he loves going to the cabin and spending time outside. He is still working towards walking on a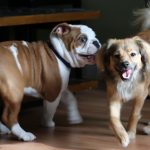 leash and how to say hello to people and dogs when walking but we know he will learn with lots of practice and patience!
Special thanks to ARC for being available to answer any questions that have come up along the way and continuing to support Bear and us to transition to his fur-ever home. We absolutely love him and cannot imagine life without him!
With love and much happiness,
Sean, Jacqueline, MitZu & Bear


 Enzo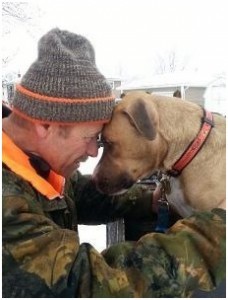 So here is the update on Enzo, who we adopted on Jan 17/14. We couldn't be more pleased . Enzo walked into our lives like he had always been a part of it. There wasn't a sound from him on the first night and he has entertained us completed since joining our family. He loves to snuggle on the couch, play with his Kong, go for drives in the car (we made a 2 day trip to PEI and he loved it), walk in the woods and even drive on the ATV. He is such a friendly guy who loves meeting new friends whether it be people, dogs (and he loves my horses).
I have attached a few pics of Enzo.
Again, THANK YOU for allowing us to be part of his life.
Margie Shiers & Blaine Hart


 
Gidget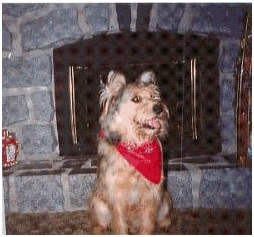 January 27, 2011
I'm finally getting around to sending you people an update on Gidget, previously know as Sheena back in the dark days of her earlier life. We are so grateful that ARC rescued her from that awful place last February. Gidget had been kept in a basement that whole first year of her life with no outside socialization of any kind. She was terrified of everything, the wind, and every little noise, the feel of grass or snow under her feet but especially MEN! Elise and her foster mom noticed this also and prepared my husband and I about her, both of those women have hears of gold I must add. Gidget attached herself to me immediately and it was at least three weeks that she wouldn't let anyone else take her out to do her business or even feed her. Her fear of men was so great that there were times when she saw my husband and our two sons she would wet her self. We know with out a doubt in our minds that the man who owned her before beat her. Gidget was a major challenge with all of her issues, separation anxiety being one of them, especially whenever I had to go somewhere even if it was only to go to another room. We adored her though and our ours hearts just ached for her when we saw how distressed she was emotionally. I will admit right now that I found the first three or four months very overwhelming and I was afraid that I had taken on too much. Less then a year earlier one of my brothers died suddenly of a massive heart attack and my mother lost her battle with cancer. When we decided to adopt Gidget I was extremely depressed and was suffering from my own anxiety issues.
Now, with that being said, adopting Gidget was without a doubt the best thing we ever could have done not only to heal our hearts but to heal her heart as well. We worked with her slowly so that we could all gain her trust; we took her for countless drives so that she could see other people and dogs from the safety of our car and then gradually taking her for short walks at first and then longer ones as she progressed. Obedience training did a lot to help her with her self confidence. She has been a quick learner and we couldn't be any prouder of her. We love her dearly and she was worth every second of all the effort. Gidget and I are both happy to say that we no longer have anxiety attacks because we helped each other overcome them. Our house has become a place of great happiness again and we spend a great deal of time laughing over her goofy actions and of course she loves that because she knows that she has a captive audience. We adopted gidget on March 3rd and so from now on that is going to be the day we will celebrate her birthday because that is the day that she really started to live life.
I know that this letter is a tad long winded but it is my hope that it can be used to educate and inspire others to open their hearts to an animal in need and to encourage people to hang in there when things are difficult at first with your new family member. These animals sadly can have a lot of emotional baggage but with love and much patience they will enrich your lives a hundred times over. Gidget came into our lives when we needed her the most and she needed us just as badly too. I was destiny. If ARC hadn't rescued her from that place we would never had the chance to have the most amazing and adorable dog this world has ever seen.
Thanks, Gidget and Family

  
Balto
Balto came to us from Animal Rescue early in March.
He a 5 yr old husky/lab mix who is totally blind due to birth defects.
Both Scott and I fell in love with him when we first met him as well as our other rescued dog JoJo who is his big brother.
He certainly has found his forever home and is loved by all, furry and human alike.
It didn't take him long to figure out our house and yard, or to climb up on your lap.
He loves to go for truck drives and has recently taken to swimming.
He loves going to PawPrints Doggy Daycare and has a whole group of friends there as well.
Despite Balto's life prior to coming to us included abuse and malnutrition he has got to be one of the happiest, most loveable dogs we know.
Thank you Animal Rescue for letting us adopt Balto as you can tell by his picture life at his new home is grand.
Jennifer Lake

 
Bea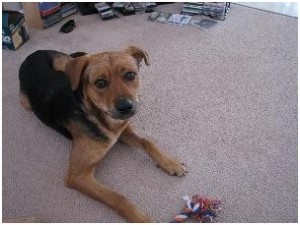 Bea is doing great. She'll follow me around the yard on her 25′ rope. We were just out on the deck enjoying the mild weather and she was content to just lay on the deck with us, even though she had that 25′ of room to roam.   Kristina has taught her the high-five and she can now do that with both paws, still working on getting her to stand on command though (she sits and lies down easily though.)   She's also getting a lot better with pulling on the leash, the last few mornings  I haven't used the gentle leader and the leash has been slack for most of the walk. Of course she still pulls when there are people or other animals out for walks (because she's so friendly)  Here are some pictures we took of her when we first brought her home!

 
Beau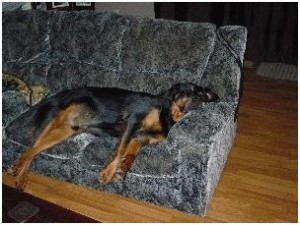 Beau is doing great and settled in only within a couple of days. He recently had his portrait taken in support of Pet Day for the SPCA – everyone agreed that he's pretty handsome!
We've attached a recent picture to show how he spends his spare time.
He loves going for drives and getting treats – he gets a new toy when we go grocery shopping so he's now taken the liberty of going through the bags when we sit them on the floor to find it!

 
Benjamin
We just want to let you know that all is well with Benjamin.
He is such a loving and gentle dog.
He is gradually getting over his timidness and loves to go for walks with us.
We couldn't be happier with him,
thank you again.
Dale and Blaine

 
Bisou
Hello My Friends at the Animal Rescue Coalition.
I know it's long overdue but I have been having so much fun with my new mom and dad and big brother Bosco. Its me Janie, but my new family calls me Bisou. I think that name suits me and I like it. I have been super busy, my new home is great, I have a big yard to play and run in and the whole neighborhood knows me very well. I am a very fast runner and my big brother loves to chase me. Sometimes when mom and dad aren't watching I run off and visit the neighbors.
This is my first summer and I just realized that I love to swim and play Frisbee. Mom and dad and Bosco take me down to the lake a lot and you should see me swim. I love to go for walks and I am getting better at that. I am trying really hard to be a good walker like my big brother because he doesn't need a leash like I do…maybe someday J. On rainy days I love to watch TV. I have a really good attention span and I can watch a whole movie especially if there are other dogs in it or police shows…I love sirens.
I am so happy here with my family. They love me so much…even though I am not always the little angel I appear to be. Thank you so much for helping me find my family.
Halie, Chris, Bosco and Bisou

 
Brady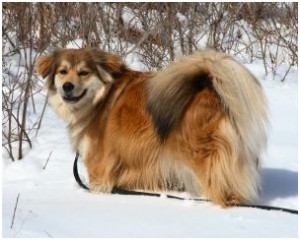 Hello Auntie Virginia.  Did you remember it was two years yesterday since you gave me to these people? They're cracked you know.  I have had such a hard time training them but they are finally starting to come around and understand that I AM the one in charge.  I Love when a plan comes together!!! My Daddy is a real sucker for me, my Mom not so much, but I think that's usually the way with families don't ya think Auntie Virginia.? I just cock my head to one side and my Daddy is a goner, but my Mommy is onto to my tricks.  She's a harder case.   Now I must say that I have my Auntie Chrissy wrapped around my paw.  She just loves me to death just like she should. My Lucy dog is not very well though.  I don't think she'll be running with me much longer.  That makes me sad cause I loves her a whole big bunch, even if she is OLD!  BUT I still have my little Koko to play with.  So, we have play dates with my other friends and I play out in Shubie at the lake with all kinds of puppies but I do miss my friend Berko (who tried to bite me!).  I thought that was just stuff "humans" did, not dogs.  Oh well. I have to go now.  It's time for me to whine and whimper so Daddy will take me for a walk.  We do this every night and he doesn't have it right yet..  He thinks I have to wait till he finishes his tea but I KNOW I should be walked first.  You wait thoough, I'll get him yet.  He's the weak link in this house!!! Love you Auntie Virginia.  I don't know yet whether to thank you or give you the "paw".  Ask me in another year or so. Love & Licks Brady

 
Callie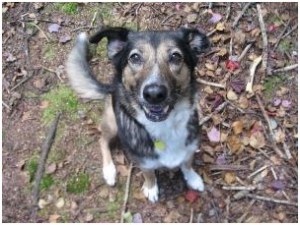 Dear Animal Rescue Coalition volunteers and foster families,
We are writing to express our sincere gratitude and appreciation for providing a home and saving our Callie's life!
Callie was found wandering the woods of the North Shore of Nova Scotia, she found a cabin and after the owners of the cabin noticed her hanging around for a week or so they called the dog catcher. She ended up in the pound in Truro, and after going unclaimed, was supposed to be euthanized. As an older dog, that could have been the
end of Callie's story, but a special lady, who worked at the pound stepped in to save this beautiful dog. She contacted the ARC, and Callie was placed with two wonderful foster parents in Halifax.
When Callie was found, She had a very severe and chronic ear infection that had permanently deformed her ear. She also hadn't been fed a normal dog diet, resulting in several abscesses and bad tooth decay. This made it very tough to guess just how old she was! As a young
active couple, we were planning on adopting a younger adult dog, but once we met Callie, we knew we had to take her home with us!
When Callie first came home, her tail was always between her legs, and she was so afraid to walk past other dogs on the side walk she would try to run in the other direction as soon as she spotted one. She hated walking at night and would stick so close sometimes we would trip over her on our bedtime walks. During those first months, my husband and I spent much time wondering what Callie's pre-rescue life was like. But you know what, I don't really think Callie was thinking much about that at all! I never would have believed the difference a little bit of time, patience, and encouragement could make in a dog. It's six months later, she walks on the leash like a pro, and her tail is constantly high and wagging!
She is the most tender hearted soul anyone could ever imagine. When Callie came home, she slept and slept and slept! Our family and friends nick-named her the "fuzzy cucumber", but, after a summer of iron shots (her bad diet had also left her iron deficient), and dental work, Callie became an entirely different dog! You could say that Callie got her groove back! She now runs and plays with her doggy cousin in the park, enjoys rides in the car, likes to visit the local market, and has graduated from basic obedience classes (which she didn't need, but LOVES so much – who says you can't an old dog new tricks!),! We could never have hoped for a better dog.
Thank you, thank you, thank you, for saving Callie, she has brought us so much joy and happiness. She is a huge part of our family now, and it's impossible to imagine life with out her. We would certainly encourage people to think about adopting an older dog. Callie is living proof that you're only as old as you feel, and with a little love and attention, there's a good chance you'll find a diamond in the rough.

  
Chance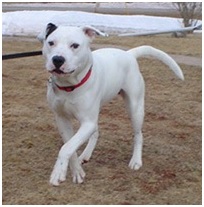 Chance – We have renamed Chico Chance and he is responding to it already. A very quick and responsive dog. Thanks for letting us have him. My wife says he snores just like me but we expect that will be fixed with his surgery.
Regards
Dave Panting


 
Devo
Hi all,
Just wanted to say Devo is doing great and so are the twins.  Devo is adjusting nicely and of course we have tried to keep his schedule somewhat the same.  He still gets his walks and gets to go to day care every once in a while to get a good run with the other dogs.
Hope you all have a wonderful Christmas and New Year's!!


 
Gina
Just dropping a line to say thank-you for the opportunity to have a puppy like Gina, now known as "Ginger".
We brought her home Saturday and it hasn't taken her long to settle in as part of the family. She's done alot of exploring in her new home, and she sleeps rather well, as you can see in the photos !
We're bringing Ginger to Westwood tomorrow for her second de-worming and registration. We've already went out and purchased her a new girlie collar/leash combo.
On Sunday morning after an hour or so, and a few treats later, Ginger will now sit on command..Fast learner she is.
All the neighbour's love her, and she doesn't seem to mind the neighbourhood cats and dogs..actually she puts them in their place real fast with that mighty bark of hers.!!
Thank-you again, we'll send more photos soon.
David and Angela.
Gina Update
Hi guys,
It's me Ginger…Well it's been almost three months now with my new family, and things are GREAT..!!!!
I've got my own bedroom, a basket full of toys, plenty of delicious treats on hand (for when I do really good things), and mom and dad even take me to doggie daycare on a regular basis..!!!!
I really look forward to doggie daycare because I get to see all my other doggie friends that I've made in such a short time…
Mom and Dad even took me to a professional pet photographer to have my pictures taken…I think mom and dad really are truly happy to have me.
AAHH….Life is good…!!!!
We'll I have to go to bed now, so I've attached a couple of new photos so you can see how well I've adapted to my new surroundings..
Bye for now….Woof.


  
Guinness
Hello Animal Rescue Family and Friends,
Guinness here, just checking in to let everyone know I'm very happy with my forever family and they are sooooooooooo happy with me, we do everything together, I especially love going for drives. I also really, really like walking, running, sniffing and "marking" on the trail (Trans Canada Trail). I'm there every day, it's awesome. I have so many friends that I meet on the trail, Ripper, Tucker, Sofie, Huggs, Riley, Ellie, Bella, we have so much fun together.
So, it's official, I have graduated from puppy school, proof is in the pictures. My cake was great, it is a dog friendly cake and tasted yummy. I was okay with the diploma, but as you can see I wasn't to crazy about the hat. There was a gown but my dad and mom decided not to go there, good decision! Tamara was an awesome teacher, I'm looking forward to my next grade.
I really love my groomer Lindsey and my vet, Dr. MacPherson, she's totally awesome, in fact I love everyone at Westwood Hills, I love going there. I visit my extended forever family often, I sometimes go to the nursing home where my forever grandfather is, the residents there love me, but who wouldn't????????
To my foster family, I love you guys for taking such good care of me before I went to live with my forever family, thanks.
Licks & More Licks, Guinness


  
Hallee
Well, we got her and have fallin in love with her. It really is a shame that Pit Bulls/Am Staffs have a negative reputation because our girl is wonderful and I could not imagine our lives with out her. Hallee loves to play with dogs that are willing to chase her. She is so fast and will run slow to allow others to catch up… just before you reach her, she'll turn on the speed and she's gone. (smiling like pitties do) She loves naps, cuddling, and tugging on her ropes. She likes to push us with her paw (just like a little person) when she wants some love. I cannot thank you enough for allowing us to adopt Hallee. She's part of our family and we'll never let her go.
Anna & Steve


  
Jackson
Jackson is just the best boy and definitely the best thing to happen to us!  Although he didn't necessarily need to be 'rescued', we are grateful that his previous loving family allowed us to adopt him so that he could get all the attention he deserves. Jackson enjoys our daily walks and would stay out all day long if he could! He enjoys going to the local ballpark to play fetch and always looks forward to playing with the other dogs there. When he finally tires out, he curls up in his favourite spot on the couch for a nap. If Jackson could have it his way, he would just play and lick all day long! Thank you ARC for helping us find the perfect addition to our family!


 Lily
Hi there,
We just wanted to update you on how Lily is doing now that we have had her in our lives for a year and send a couple of recent pictures.
We truly feel blessed to have gotten such a great dog from you guys. Lily did great in her obedience class last fall and continues to impress us. She loves going to the dog park, playing with her neighbourhood dog-friends and swimming in the lake at our cottage. She makes us smile and laugh everyday.
Thanks again!
Lindsay and Shawn

 
Mokie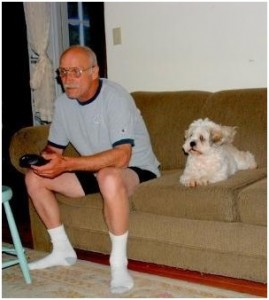 Hello-o-o,
Our fantastic veterinarian (Kathy Newcomb) in Maine did a stellar job with him. He was in terrible shape when we picked him up in Moncton between snowstorms last winter on a Sunday afternoon. Mokie's foster mom and her daughter drove him from Halifax and met us in a parking lot! She was great. She had cared for Mokie and kept him alive until we all crossed paths through your Rescue Coalition.We transferred him into our car; I didn't even look at him fearing the next huge snowstorm and getting strandred along that lonesome stretch of highway between Moncton and the States. And besides, I knew I was taking him to our Vet and keeping him no matter what.Our vet looked at him the next day and scheduled surgery immediately. Anyway, when she operated she found a dozen or so very sharp bladder stones. They were 12mm and smaller. While 'out' our vets' technician did his nails and ears. Mokie was a dog in severe pain. It was obvious that he had been in pain for so long that he was almost entirely 'shut down' from all feelings. Anyway, over the last 7 months he has slowly turned into a playing puppy, even though he may be much older than a puppy. Every week we see a difference. In the beginning he seemed to feel nothing, but over time when something hurts him he 'cries.' So, now we know what he fears. My first task with him, socially, was to encourage him to make eye contact. After months now he will hold contact for up to 10 seconds,
but not often throughout the day. He now plays, jumps, hops in the snow, asks to get up on our bed in the morning, asks (sometimes) to go pee. We're still working on that. He plays tug, fetch (for himself) and sometimes chases his tail. When he barks it is a very low bark, when we go for a walk his little legs go in circles, his feet are like bear paws. We LOVE him!!! He really enjoys reading the paper and watching tv with Neil.
It turns out he is all or mostly Dandie Dinmont. He has a left ear tattoo that says "Ma." We thought you'd like to know that. We assume that he was a Puppy Mill puppy but we don't know for sure. "Ma" may be a term you are familiar with.
He loves to eat, not only his strict SO diet for dogs that can't have calcium oxalate (the vet sent his stones away to be assayed so we would know what not to feed him), he also loves carrot bits, cranberries, bananas, tiny tomatoes, apple bits, avocado, …and so on. He doesn't like papaya! He has a super time with Biscuit, our other SO diet puppy. Seems that they both tested for calcium oxalate bladder stones – so no no no dairy.
We can't thank you enough for taking his foster mother's information so that we could find him "almost in a snowstorm." Mokie says "thank you so much, I love my new life.!"
Mokie Famous Barrett

 
Oliver
Its been over 6 months now and Oliver is doing very well in his new home. He graduated at the top of his obedience class, and is getting very good at his recalls. His favorite activities include cuddling on the couch, and being chased by his doggy buddies at Seaview park. He gets along very well with our other new addition, Ross the kitten! Attached are a few photos so show how happy and healthy he is.
Thank you very much for keeping him safe until he found his forever home… we can't imagine life without him!!!
Stephanie & Nigel

 
Peaches
Hey I found a new family!! Can you tell from my picture how happy I am?
Everyone in my new home loves me and I am so glad to be here. It sure is a lot different from a kennel and I was a little confused at first and had a few accidents in the house. But then I was shown the great outdoors and the rest is history. And the treat I get afterwards doesn't hurt either!
The kids here are great. They love to get my toys out and play with me. They hide my squeaky toy and I get to try to figure out who has it. I get them every time. Like they could hide my favorite toy from me. They laugh… I bark… and we do it all over again.
I know how to sit, speak, lay down, roll over and even dance. We are working on 'sit pretty' but I just get too excited and want to jump and dance. I think mommy has given up on it. I learned everything else really fast. mommy says I am a very smart little girl who loves her chicken snacks. I'd do anything for a chicken snack! So all in all … LIFE IS GREAT!! 🙂 A family who loves and adores me, fun toys, and long walks … Who could ask for more?!

  
Po A.K.A Henry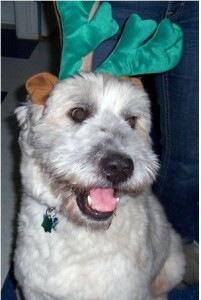 Hello,
Henry wanted us to send you an e-mail saying thank you very much for the lovely Christmas card. He's really enjoying the Christmas season; lots of new people to meet, and he loves rolling around in the snow (usually face first!). He even tolerates being dressed up as one of Santa's reindeer! He's had his second grooming at Tailwagrrrs, and he loves spending grooming day in the doggie day care there; he's still pretty suspicious of other dogs when he's on his lead, but he loves meeting other dogs off lead at the day care. Everybody just thinks he's the most handsome dog! He loves going for car rides too; he's frequently our companion when we're out running errands. He definitely is a snuggly dog; when he settles down in the evening, he manages to stretch out across both our laps when we're sitting on the couch. His favourite toy is a squeaky stuffed squirrel; it's funny watching him shake the toy, throw it up in the air and then catch it! We're sending you some pictures that we took of him recently; as you can see, he's pretty happy and settled here. We're very happy that he has adopted us! Have a wonderful Christmas and a very happy New Year,
Henry, Paul, and Anita

 
Rex A.K.A Samson
Just writing to say hello and let you know that I am really enjoying my new home.
I love my sister Kayla and she has even decided that she kinda likes me now, we play together outside she does the barking and I do the fetching when we play ball.
The cats took a bit to warm up to me, but the old guy gives me a nudge now and then and the 3 legged one I find fun to chase (I don't understand why he cannot talk nice to me!)
I have done a lot in the last week, I think I've met the whole family now and they all love me. I went to the beach a couple of times for a walk, it's great.
I have gone to BARC agility twice now, I love all the dogs there and the people too, mom says I have to work on my basic obedience before I can to anything else, so I take notes when Kayla and her friends run the agility courses and I socialize. My best friend is a 140lb Newfoundlander named Cooper.
Dr. McDonald took my sutures out this week, he says my incision looks good, I have a bit of swelling but it's slowly going away. My hair has less dandruff and looks good I had a bath yesterday, I LOVED IT!
I've sent a couple of pics to show you how well I've settled into this joint. Check out the fine jacket they got me, I won't freeze this winter. Take care for now, I'll keep in touch
P.S. The agility website is http://barc.7p.com/ if you want to check it out, my picture will be on it soon.
Rex (AKA Sampson) Kayla, Julie & Nathan


  
Ruby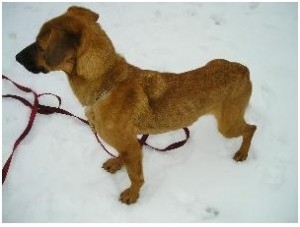 Here is Ruby. When she was first brought into rescue she was very malnourished and needed some TLC that only a good home and people who love her could give. Once she got some TLC she quickly blossomed!!!
And here is Ruby today. Healthy and happy and full of life.here is what her new mom has to say…..
When ARC first sent me a picture of Ruby on Valentine's Day she didn't look anything like the little beauty you see here. But in spite of being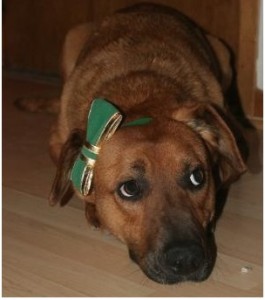 starved, Ruby's eyes looked bright and alert, as if she knew that her circumstances had just taken a turn for the better. Now she lives in the country with two doggie brothers and four kitties. Ruby especially likes our long hikes in the woods every morning…or is it the home made dog cookies…or maybe its those darn squirrels that just won't sit still and wait for her: ))) Ruby is part lab, part hound and perhaps shepherd too. Whatever the mix, Ruby is all sweetheart and I'm really happy she is here.
Thanks Janet you're one great mom!!!!!!


  
Sable
Hello from Sable…
It's been over a year now since Sable came to live with us…I don't know what we would do without her…She a beautiful dog who loves people and going places…She love salt water beaches and swimming at Long Lake Park…She loves to be with other dogs and can smell a dog lover a mile away and avoids those she knows are not…She loves to be off leash and can run like the wind…All we meet ask what type of dog she is and we just say wonderful…Breed means nothing to us…She loves apples and yogurt and sleeping where ever she can get away with it…She is not happy being left behind when we are at work but a little country music and a Kong toy filled with peanut butter soothes her soul…When we come home you could not get a better greeting…We are so happy we got to be her family…
Thank you from The Hemsworths,
Tim, Terry Ann, Amanda and Sara


  
Stella
My Darlin' Stella:
I was a spaniel person all my life and then I met Stella. Poor Stella was found running the roads all matted and flea ridden. It was late May and she was on her own. How or when or from where no-one knows.
After we heard she had been picked up by Elsie and needed a home to foster, we got on the road, Joan and I, and went to Stewiacke where Elsie was waiting for us. I was so excited that I ran out of the house when I got the call and left my purse in the hall. Joan must have thought I was a loon – no gas no purse no thoughts other than little Stella.
Elsie had arranged for her to be looked at by the vet and she was being groomed. She'd been through a lot in one day the poor little tyke. How excited I was to get my first foster baby and to my surprise she was exactly what I had wished I could find for myself but never thought it would happen.
Even more perfect was she didn't have a name that anyone knew so I got to give her a name. It wasn't even thought about just popped into my head and it was her.
She was so small and wanted to stay with Elsie so badly, but I fell in love with her and before we even got to the turn off I knew she'd be mine if possible. She has been such a joy and so much fun in my house. Everyone that sees her loves her. My son's friends seem to be mostly girls and he loves to show her off to them. She loves to pull weeds and move rocks. Totally hooked on rocks. She fetches balls and doesn't even mind giving them to you when asked. If you get tired of throwing balls for her she will throw them for herself. She jumps and spins at the same time when I get home from work and absolutely will not pee until I've picked her almost un-holdable squirming self for a hug first. She has little baskets all over the house to cuddle up in but her best place is in the bed next to me; and ……………..can she snore – wakes me up sometimes it's so loud. I really thought I'd not get another dog – but then came Stella. Who knew she'd be soooo perfect.


  
Tawny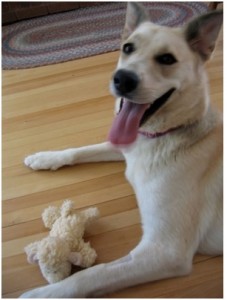 Hi everyone, I just wanted to let you know that I'm settling in nicely in my new home. My new family is very kind. They take me for lots of walks and I've already met some neighbours and two dogs called Rufus and Poppy. Poppy let me share her ball when we went to the playing field yesterday. But my new family has no kids or other dogs to play with, so you can probably guess that I miss you all a lot. But, guess what, my new mom went shopping today and came back with a bag full of interesting stuff. I have a thing called a sinew that is great to chew but she takes it away to dry out when it gets too slimy. And I have a kong. And there's a ball with a handle thing for throwing it. You'll laugh at how I surprised my new mom today. She was down in the basement putting away the garden tools and I found another toy hidden in the bag. It's a sheep with a squeak in its middle. Well, I started throwing it around and pouncing on it and she came racing upstairs wondering what was going on. She said she thought an elephant had got in the house! Anyway, I love my sheep. I carry it around and jump on it and when it squeaks, I squeak back. I feel like this is starting to be my home now I have toys to play with
and I'm starting to know the smells around the neighborhood. I'm still not very hungry but I did manage to eat some supper tonight and that made them both happy. I have a new name now too. I don't know why, except my new dad says I am the most beautiful dog he's ever seen and he thought I deserved a beautiful name to match. So I am now Freyja. It's spelled really funny but it's just pronounced Fray-ah. He says she was a beautiful blonde Norse goddess and that goes with me being partly German Shepherd! Oh you human beings, you do have some funny ideas! Oh well, it's one more thing to learn but I'm sure I'll get used to it. On Monday we are all going to start obedience classes. I don't know why I need them, really, because you know how good I am at doing 'sit', and 'down' and 'paw'. But they say there are other things to learn as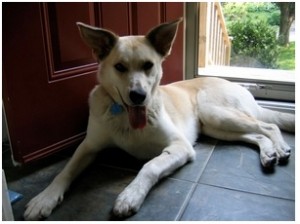 well. I guess everyone has to go to school sometime. And they've promised if I learn to come when they call my name, I won't have to have the leash on when we go to the big park. That will be very good because we went there yesterday and there are lots of squirrels. I just know I could catch a squirrel if I didn't have to wear a leash! Anyway, I'd better go now because she wants to use her computer. But I'll write again and let you know how we all get on at obedience. Here are some photos of me this afternoon.
Thank you so much for looking after me so well and helping me find my new family. Say hi to the other dogs from me.
Love from Tawny


  
Tippy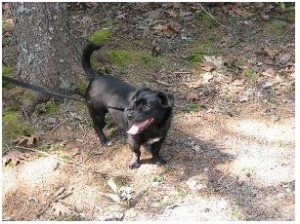 Dear ARC,
Thank you for my Christmas card – needed a bit of help from mum to get it out of the mailbox, as I'm so short!
Things are good at my new home – have managed to wrap both of my parents around my paws, especially mum! Mum will always get up for me if I need an emergency toilet break at 2am.
I am now a brother to two cat sisters – Sahara and Jolie, one rabbit brother – Leftie, and four fish. I'm a bit worried about Leftie, as he has a big cage and the kitchen is fenced off at times to allow him to have a run – so I reckon he must be really fierce! I love playing with Sahara, though sometimes mum has to rescue her if I play a bit too rough. Jolie's new to the family and confuses me. When I go up to her, she doesn't run away, but just talks at me!
I love going for walks in the snow, but not the rain. When I get in from a walk and it's been raining, I have to run around the house and bark at mum for five minutes.
Looking forward to my first Christmas – there was mention of a roast dinner – mmmmm!
Happy Christmas to everyone at the ARC and thank you for looking after me. Mum and dad send a very big "thank you" to you too, for allowing me to come to live with them – I've finally got my forever home!
Tippy xxxxx


  
Winnie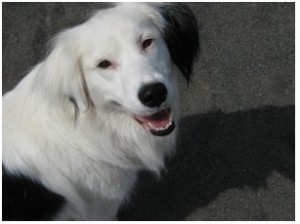 Dear Mabel,
we are having a fantastic time with Winnie and love her dearly. She is also enjoying herself, the yard, the beach, the woods–she is healthy and active and she is also getting less timid about people and other dogs, so she seems to start coming out of her shell. All in all, things here couldn't be better. I am attaching a picture of Winnie at the beach by our house, doing what she does best: smiling.
All The Best,
Maica and Mathias


  
Zoom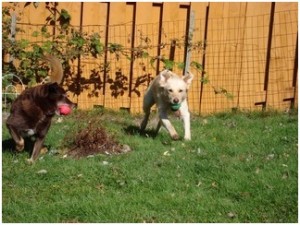 Dear Rescue Family:
Here is a picture of me, having a full- out run with my companion Chloe. We have fun in this backyard. We get a walk morning and night. A free run on the weekends. Last Sat. Daddy Paul took me and Chloe to Seaview for a full tilt -buggy romp, well I saw this Wire – haired friend in the newly thawed muggy mud puddle and just couldn't resist going up to my ears in the puddle and then we spied another to have a turn in too. Chloe sensibly stayed well away. What can I say, I am a rampunkous teenager and couldn't resist. We went straight to the Metro Dog Wash and I had a bath. I just graduated from Lietash Family Companion course this past Monday. So
thanks for finding me this family and I hope others get a break too.
Love ,
Reilly AKA ZOOM